OUR PROCESS at Hough Architecture
Each project is completely bespoke, and the associated services provided by the architect are also tailored; cost and scope of services will be personalised to the individual clients, sites, and projects' requirements. There will, however, be projects that will be similar in scale, costs, timeline and services and this section is intended to give an overview of a typical project on a most common (traditional) procurement route and is aimed at someone looking to engage an architect for the first time.
There is an initial meeting to discuss the project, generate the brief and prepare a proposal of our fees and services – all this is undertaken free of charge and with no obligation.
We will discuss your proposed project in detail; establish what you need and want from the proposed construction project and the feasibility of achieving this and how this can be realised. We will discuss cost, time scale, as well as talk through in detail the various statutory obligations that are required, for example obtaining planning consent, demonstrating compliance with Building Regulations and with the Construction (Design & Management) Regulations 2015 (CDM). We will also set out what the obligations and responsibilities are from your perspective, our role and the role of other third parties, such as other consultants, who may be required on the project where possible.
We approach all our projects with complete honesty. From the point of inception, we aim to provide you with a complete, clear view of the proposed project and will help you to understand the associated costs and the constraints within the project. We aim to address any problems that may arise creatively and professionally; with value for money at the heart of our approach. Therefore, the project may change from what you initially planned, or it may result in there not being a project – we will not simply tell you what you want to hear in order to win the project. Further information on costs, useful documents and links can be found by clicking the following the links below: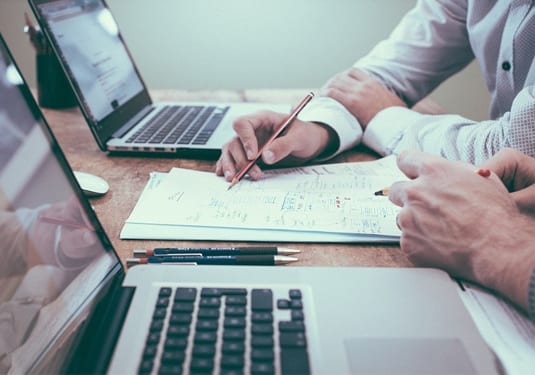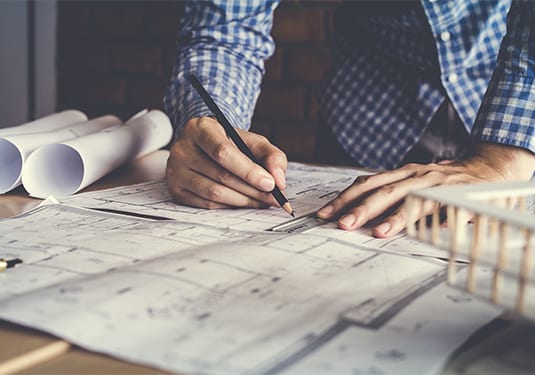 If you are happy with our service proposal, we will complete our appointment and proceed with your project. The first stage will normally consist of a survey (by ourselves or a survey company, depending on the size of the project) and gathering information about the site. This may include the appointment of other consultants to assist in this regard, such as an Ecologist, Engineers, or an Arboriculturalist etc. From this information, we will refine the brief and start developing the concept design(s), working alongside you until we have a final developed design. In the majority of cases, the developed design will form the key component, along with other drawings and supporting documents, of a planning application to the Local Planning Authority.
Following the successful grant of planning permission, the next
stage is to develop the Technical Design (the plans, sections, elevations, details and written notes, specification and schedule of works of how the building is built). A basic set of Technical Designs will form the main part of a Building Regulations Plan Check submission. Although the technical design drawings can be used for construction on simple projects – for example, a simple house extension – more complicated projects often require further detail, often in the form of a written specification and additional detailed technician designs. Ultimately the more information that can be provided to a contractor, the more accurate their tender price will be. We can advise and help you
find a suitable contractor for your project and obtain prices through a tender process. The prospective contractors will base their prices on the technical design and other information gathered throughout the project. On receiving these prices, we will then assist you in selecting the contractor to use to construct your building or extension.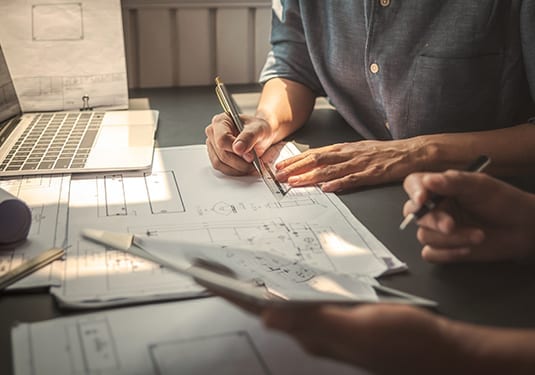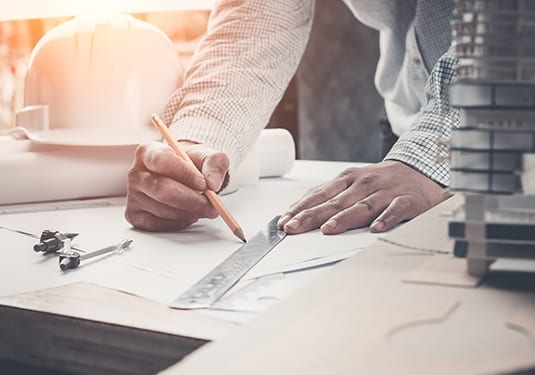 Following a successful tender and acceptance of a contractors' tender, we can now prepare a construction contract between yourself and the contractor. This could be a simple Building Contract, such as the RIBA Domestic Building Contract or JCT Minor Works – which can be used on small domestic projects. Or this could be a more complex form of Building contract, such as RIBA Concise Building Contract, the JCT Intermediate Building Contract or even the JCT Standard Building Contract. Even if we are not involved in the project at this stage, we would strongly advise that a written agreement is in place between yourself and the contractor for all construction work, for example JCT Homeowner (HO/B) contract at www.jctltd.co.uk or the RIBA Domestic Construction Contract, with the self administration clause selected.
If you do opt to use an administrative form of contract, we would act as contract administrator on the project. Under this role, we will: provide the contractor with information required for construction; visit the site to see that the work is proceeding in accordance with the contract; certify payments for work carried out or completed and advise on the final costings; provide or obtain drawings showing the building and its services; give general advice on maintenance (however this does not include project management); make final inspections and advise on the resolution of any defects at the end of the rectification period; agree the final account and issue a final certificate.
The client is the key to any successful project; we work collaboratively with our clients and other stakeholders, to achieve the desired end result. We ensure regular communication between ourselves and the client, to develop the proposal in line with the client's requirements; providing a personal, efficient and outstanding experience.
All work is undertaken by, or under the direct supervision of, an RIBA Chartered Architect. An architect can guide you through a whole range of processes – from the initial design, to seeing the project through planning and construction, all the way to completion. Architects add value – whether it comes from maximising impact or functionality, bringing about change of use, increasing capacity or marketability. We adhere to the RIBA Code of Conduct and ARB Code of Conduct, which ensures the highest standard of professional conduct and service.
Creative, Innovative and Suitable
Our work is developed, in collaboration with our clients and other
professionals, to design buildings with a strong sense of place, a
rich materiality and a sense of craft, driven from the buildings historical, social and cultural contact. We look for ways to optimise value for money, both in our service, the resulting project and throughout the building's lifecycle.
We offer all aspects of the Architect's role, from feasibility studiesand brief writing, through to concept development, contractadministration and offer support when the building is in use.We can produce visual impressions of our designs to assist ourclients in visualising the proposals using a wide range oftechniques tailored to the individual project and client's needs.Theseinclude: 3D models produced using Building Information Modelling (BIM) 3D software Revit; 2D drawings, PhysicalModels; Photomontages etc.